Day 6 Letter to Philadephia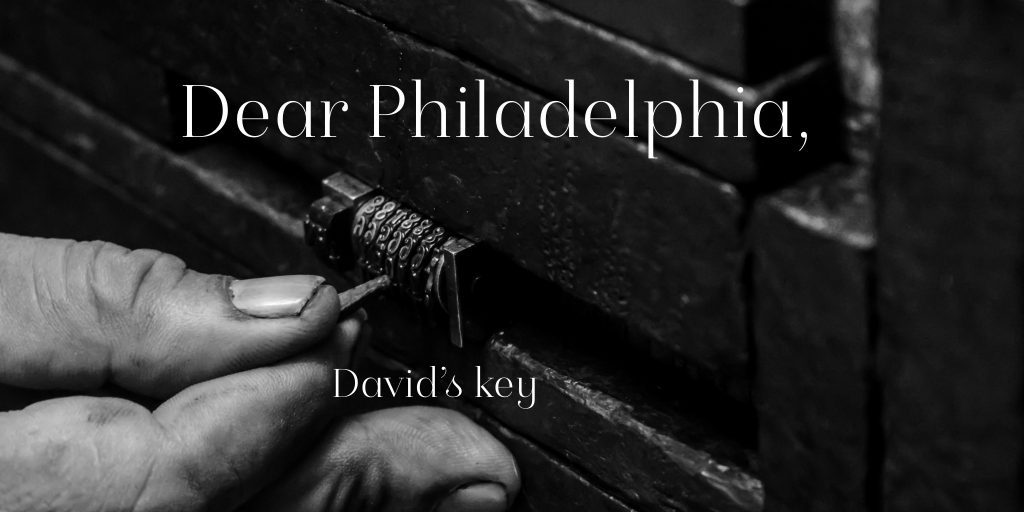 "For these are the solemn words of the Holy One, the true one, who has David's key, who opens doors that none can shut and who closes doors that none can open:"
 To the Philadelphia church, the church called brotherly love! To you I come making sure you know I am the one who opens doors no man can close. I also close doors no man can open!
A very strong opener and reminder of God's strength and power, yet his words are seasoned with a tenderness and grace. You don't have to fear for anything in your future in business, family, fellowship, or bills when the God who opens doors ascends on the scene to let you know He is your source!
This reminder was a welcomed and encouraging message to a congregation who had gone through very difficult times. A major earthquake nearly leveled the city in 17 AD, so hearing from God would have been a deep yearning in trying times. Furthermore, hearing a word of encouragement concerning His oversight for them as well as his plans for restoration would have been the exact word they needed to hear.
Have you ever gone through something that nearly destroyed you? Something so tragic that no earthly attention could fix? Something that would require divine intervention? At those times, the feelings of weakness and vulnerability can seem to overshadow what you intellectually know about God and magnify what your "feelings" describe. Feelings can literally seek to define you in the midst of trouble.
But God! I think most of us can testify to a "But God!" moment. There was a time I should have lost my mind, lost my home, lost my chance, But God intervened, and I have a different story to tell. This miracle could only be performed by the God who opens doors no man can close!
It's equally celebratory to understand that He is also the God who closes doors no man can open. Knowing that he will not allow me to go into places that will hurt me is security personified! There are times as humans we wish that statement maybe wasn't true, but the truth is there are some places we shouldn't go, some revelations we aren't ready for, and some connections we shouldn't make. Knowing our God is that deeply vested in our lives reveals his manifest, intimate grace that abounds.
The grace that David received was a download of prophetic insight. Before the gospel of grace was unveiled, David lived in a dimension of grace. God unfolds a significant invitation and revelation in this introduction. "The true one, who has David's key." The keys of David were keys to the kingdom that David discovered in his time of prayer and worship with God. His intimacy led him in pursuit of God's heart, to dimensions of revelation. Did you catch that? There are some places you go by invitation that will provide you with what you need before you know you need it, and before you understand the power behind the encounter. However, understand that David's heart was not after gifts, revelation, and power—his pursuit was pure and intentional. It was simply after the heart of God.
God mentions David's key to unfold this epiphany of what was being offered to the church of Philadelphia. David's key was being shared with this congregation; keys that unlock intimacy and prayer and opens doors of sight, and an invitation to come into the fullness of God's kingdom of joy and power in the Holy Spirit. It may also have been an open door to share this power and grace with others.
The church who suffered devastating loss, who felt weak and impotent, was being granted something with such profound implications that it implores us to be reminded of this fact "In our weakness, he is made strong!" (2 Cor12:9-11) While no one wants to be weak nor experience an "earthquake shaking," I think most of us would like to have David's key handed to us.
I can't help but to consider the power of the gift versus the impact of the quake. Consider this: God comes and says, "I have set before you a wide open door for the church that I know possess little power." The gift was monumental. The current state of the church was limited. If you're reading right now, you're probably feeling inspired. Could it be that a heart that remains dedicated to our God, yet suffers the greatest shaking, could be elevated to the highest place in His eyes? I think so!
For all of us who have gone through epic shakings, be encouraged. Your steadfastness shall be rewarded! The God we serve will come in at the right time and throw doors wide open in front of you! Doors that possess influence, prosperity, insight, joy, and strategies given through prayer. I'm not sure that the shaking holds the same weight as it did when we started. Would you be willing to endure a shaking if it provided you with a key that unlocked all that? Trust me, I am questioning the same. I'm not sure that I'm ready to raise my hand and sign up for a shaking, but I am rejoicing over the fact that for every shaking I've endured, there was and there will be an offer of new dimensions of glory to walk in!
"With your little power you kept my word and haven't denied my name." Notice that all it takes to be steadfast is a little bit of power. What God can do with my surrendered little power is great. But here is yet another reason to take a run and celebrate. Because you have little power yet endured. "Watch how I deal with those of the synagogue of Satan who say that they are Jews but are not, for they're lying. I will make them come and bow down at your feet and acknowledge how much I've loved you."
God is going to move on your behalf, deal with your enemy for being a liar, and make him come and bow down at your feet! All while you get to watch! Wait, there's more: "Because you've passionately kept my message of perseverance, I will also keep you from the hour of proving that is coming to test every person on earth. But I come swiftly, so cling tightly to what you have, so that no one may seize your crown of victory. For the one who is victorious, I will make you to be a pillar in the sanctuary of my God, permanently secure." There is so much there, I'm not even sure I can do it justice by paraphrasing it. You are weak, but I, your defender, is coming in strong to make your enemy bow down at your feet and … be forced to see and acknowledge how much I love you! Also, though you were once weak, I am going to make you a pillar of strength that will stand secure when the earth is tested. "In the hour of proving when every person on earth is tested." 
So, again, we see such a deep parallel to the times we are living in. Which is why the Lord reminds us of his present-day application of his word. His words stand the test of time. They are true yesteryear, and they are true today. For the ones who cling tightly, you've got to take the strength you have and use it to endure. Even though it may be little, hold tight! Don't give up, don't give in, and don't give out! Stay wholly firm to our God and his word and you shall be like a pillar in difficult times.
Though the testing comes to every person on earth, when the hour of proving or testing or shaking come, you will stand as an emblem pointing to the fixed, secure position upholding and supporting the kingdom purposes of God! He will never leave us and this heavenly city, the "new Jerusalem," is coming down to us! God is not taking us up to Heaven like "beam me up Scottie!" Pulling us out of despair, God is bringing His great Heaven down to earth!
What better reason could there be to stand victorious? Let your heart be open and hear what the Spirit of God would have to say presently to the church!
Let's sum it up:
Stand victoriously and cling tight to God's word.
Though you may feel weak, be encouraged. – Your Father in Heaven sees you!
It's God who opens and closes doors.
It is certainly possible for us to stand firm as the world seems to be turned upside down.
There's hope when others feel hopeless because we have been given David's key that unlocks prayer and intimacy.
Revelation and the deep things of God are given by invitation – Pursue the heart of God and the rest will come'
Father in Heaven,
Let your glory cover the earth as the waters cover the seas. Come in and cover my weakness with your strength. I pray that you open doors in my life and my family's life that no man can close. I also submit and rejoice that you close doors no man can open. Today, I will lean in and hold David's key so I can find power through prayer.
Amen
Questions to ponder:
Do you feel weak today? If so, do you feel strengthened after reading this study about the Philadelphia church?
Can you look back over the years and make mention of the revelation of things you learned and grew into due to a shaking that happened in your life?
What did you learn about God in your time of shaking?
What did you learn about you, in your time of shaking?
What peace, if any, did this message to this church bring you as we encounter our own earth shaking in real time?
Has this passage challenged you to look at how you should navigate this season of proving on earth?
Are you comforted by the fact that God is your defender?
Can you remember a time you were sure He came in swiftly and brought your enemy to your feet?